Do you ever push the doctor's advice? "Do what's comfortable." he said. How do you know unless you do something? So I took my healing foot and drove to the lake to see my tree friends. (After breakfast at Panera.)      
   It was a beautiful day and I was so grateful to be able to go out on my own. Of course, when I got home, foot suggested I give it a rest! Driving a standard transmission for so long now, I don't think about how the left foot flexes to do it's job. I was reminded!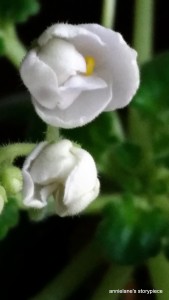 In my indoor garden, I have a very aged African Violet which I love. Watching the buds open each day is soothing to my soul.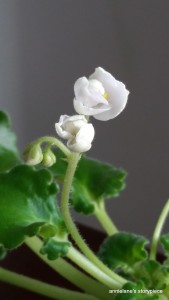 I will try again to propagate a new plant. I've not been successful in the past.  I rooted cuttings from the aged Christmas cactus and was delighted with a first bloom.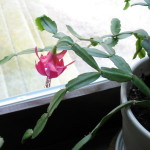 My indoor gardening efforts require patience. For the first time, I succeeded in killing the bud on an amaryllis. That made me very sad. My old bulbs seemed to want to sleep in till spring! Then all of a sudden, they grew!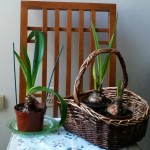 The pot on the left is my failure to bloom. Maybe next year! Soon, I will be showing off fabulous flowers!
The winds have been fierce this winter and the lawn and field are littered with downed wood. Ignoring it all is also a lesson in patience. On the one glorious hint-of-spring day, I ventured out into the backyard for the first time since mid December — because there were snowdrops!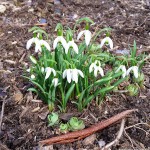 And those funny little rosettes of Autumn Sedum. It was so lovely to be outside, I had to go look for Lenten Roses.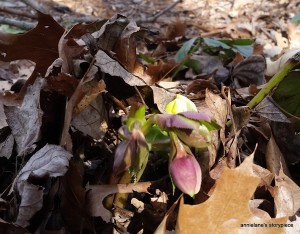 The reward was mine! The next day it was again windy and cold with a dusting of snow that melted as the sun rose.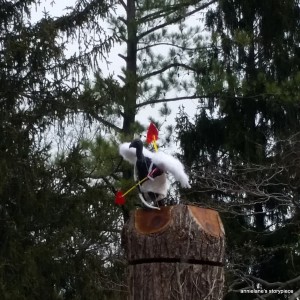 Someone else's fun. On a nearby street, many trees have been cut down. This property owner re-stacked quite a few pieces of the trunk of his tree and uses it to show his address, and his creativity. Last fall, the figure of a Black Headed Vulture was perched on top. The bird celebrates all the holidays. Here we have Cupid.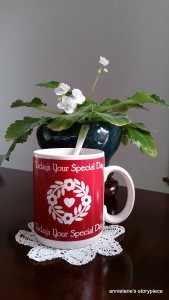 On a sweeter note, not only on Valentine's Day, but everyday, my prayer for you —
May your cup be filled with JOY!