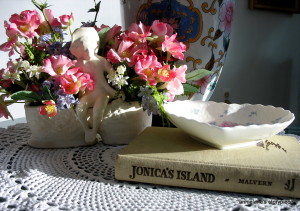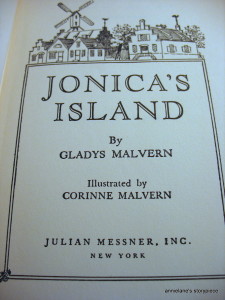 As a child, I was an avid reader, tagging along with an older sibling whenever they needed to go to the library. Later finding my own way, and still later, delighted that a new library was built only two blocks from my home.
Jonica's Island was the first love story I read – and reread. It is historical fiction set in Nieuw Amsterdam (New York) in the mid 1600s.  It is sweetly illustrated with line drawings. This particular book was withdrawn from a school library and ended up at a new-to-me sale at a local hospital, quite a few years ago.  It was a wonderful find! I read it then, of course. And put it on a shelf with a few other books that remind me of childhood.
Sorting through the shelves the other week, I took it down and ruffled through the pages. Stopping at the illustrations, I realized for the first time, how much the drawings of Jonica reminded me of the sweet face of my loved and long gone, baby doll! All grown up, of course.
That old plant holder, I found in my Mother-in-law's basement storage years ago. I cleaned it up and tucked in these flowers. In the last illustration I realized how much it must have reminded me of Jonica's beloved Gerrit, in his broad brimmed hat.
And as any good love story and fairy tale, should end, the young man gives the girl a love token and one will assume they lived happily ever after!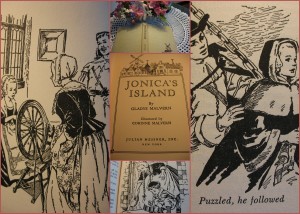 There is a welcome glossary of Dutch terms and food descriptions. Customs, and the daily lives of these Dutch pioneers is well presented and the book is well written, drawing me into the story once again. A very satisfying read!