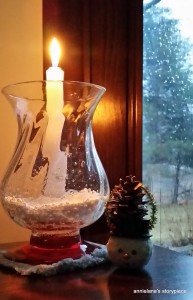 It's late on Christmas Eve. Only now, as I've stopped by this place with a cup of tea do I realize what has really been wrong this last week.  I've been cranky, and it's more than the exhausting pain of two small broken bones in my left foot. It's more than the clunky boot that makes it so I can get around somewhat pain free but will keep me from driving and makes the stairs a challenge. It's more than the shopping missed, the cards not written, the cookies not baked…
Cookies not baked… the actual cookies don't bother me much…
I ran a soapy mop over the kitchen floor – I'll spare you the description. But the 'lick and a promise' clean-up in this quiet helped me to see what I've been missing, longing for — the portal. The one I once saw while the cookies baked, the one that even not seen, settles "heavenly peace" over my soul. Do you know it? I've been so caught in the web of my painful misery and this following on an autumn of loss, that I wasn't looking for it. I wasn't waiting for it. But I am now. I'm quieting myself, waiting.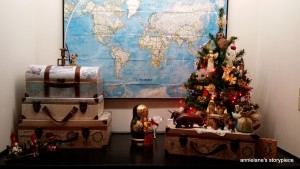 Past the glitter, lights and fancies, the small straw creche with it's array of wild animals calls.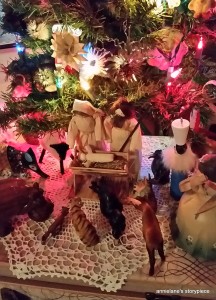 Everyone is welcome there: the tiger, the armadillo, moose, penguin, sheep, squirrels, fox, raccoon, owls, mouse, llama, elk, horse, polar bear, a lovely poodle and you and even me. The weak, the mighty, the feared, the loved, all creatures great and small come to adore their Creator.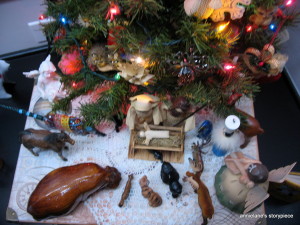 May we sleep now in heavenly peace on this silent, holy night while angels sing around us.

Joyous Christmas to you.