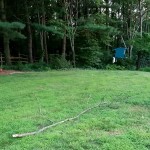 It has been the summer for yard exercise. When rain comes, it is heavy. Dead wood becomes sodden and gives up clinging to the trees.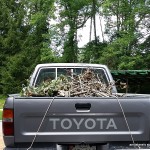 So, I pick up and pray gratitude for the county brush recycling just a few miles away.
In between rains, I am working at conscious beauty rests.  Join me for spa treatments?
Early morning light, Elephant Ear leaf, Wild Ginger "cushion", Butterfly Bush, Rainbow, Stella re-bloom, Butterfly feeding, Cleome, Nectar hunting! Click on photo for best view.
My friend, Marta, at Selah Reflections takes beautiful photographs as she lives her goal to find moments of stillness in the midst of the busyness of life. Whenever I forget, there she is with a post to remind me to stop and really be aware and rest in the beauty so generously supplied to me.