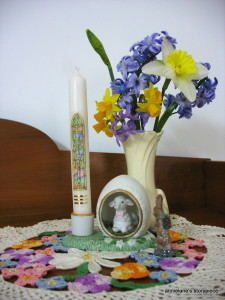 Easter came and a few members of the family were able to gather with us for dinner. We ate well and talked long. Stories were told, travel adventure photos shown and messages shared from a distance. One from a long distance in time.
Since my Mom moved house in 1998, I have housed an old comforter made by her mother, Amelia.  I really can't say why I've kept the old thing; it served no purpose. I decided to salvage the cover fabric. After dinner, I shared how I started to de-construct the blanket and saw the fine stitching and workmanship that set this utilitarian bed cover apart. This was the careful work of a skilled needlewoman, truly showing the Art of Work that she employed. I needed to share this glimpse of our Grandmother.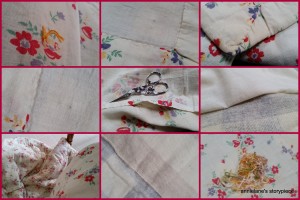 My sister rose from the table and returned with a tote bag. She carefully unfolded a packet of tissue paper and unrolled history. Amelia came to the table then —  young, the Amelia we could never know.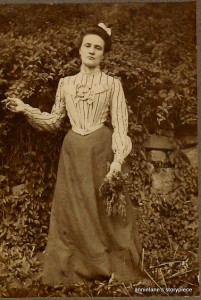 My sister and I talked of trousseau and my niece asked – what is that? A truly foreign word to this modern career woman. We examined the fine fabric, the tatted lace, the exquisitely hand stitched French seams and fine hem, the embroidery of this camisole… like a fragile page from a young woman's diary… hours spent stitching in her hopes and dreams for the future.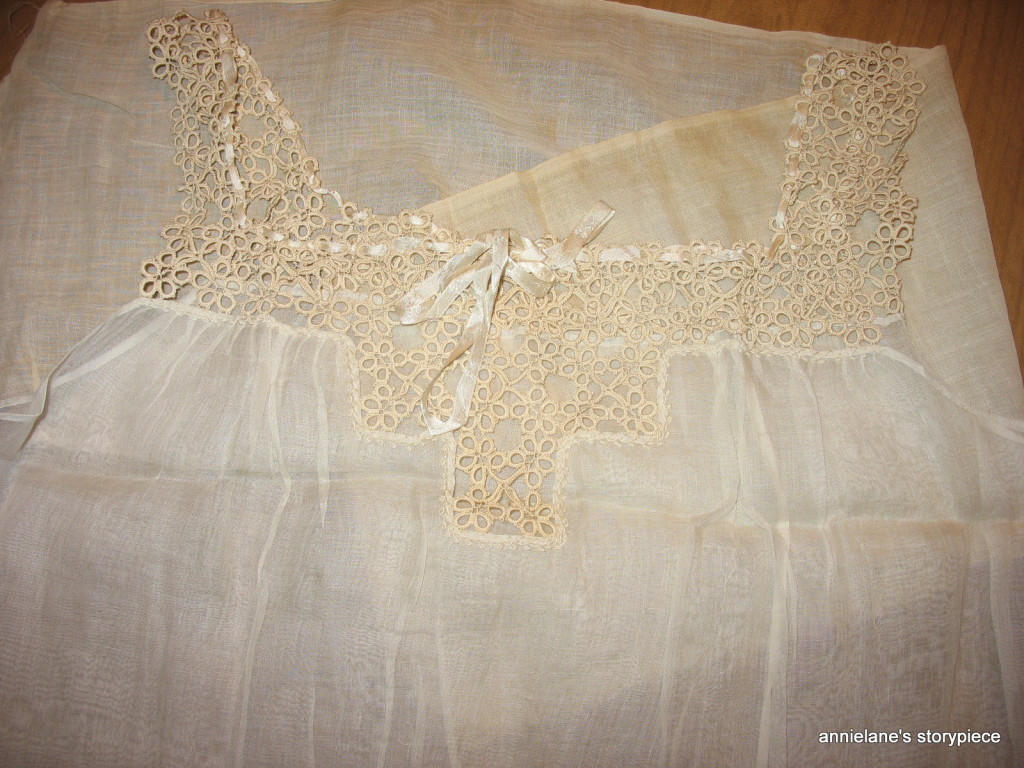 And again I felt the ache rising, the missed opportunities , the un-offered opportunities to sit, to learn from this master needlewoman,
                              hidden in plain sight,
                                                     disguised as my grumpy grandmother.
 For now we see through a glass, darkly; but then face to face: now I know in part; but then shall I know even as also I am known.
These words from 1 Corinthians 13:12 do not mean window glass, but today, they seem to reflect how we move through this earth, seeing, but not knowing what we see, how none of us is really known by another. I'm changing the stories I make up about Amelia and pray that someday, I will see her face to face and know her as I never did. I'll know what made her laugh, what touched her heart with delight, which dreams came true, her favorite music…
I know I will like her.