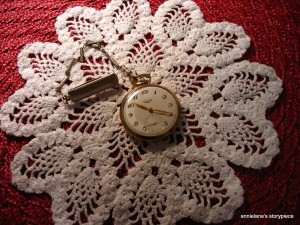 Old Father Time – I blame him for the odd passage of time these last weeks and, in fact, this last year. My watch began to run fast, the bathroom clock refused to run, its replacement ran too fast. Now I have a new watch and a new bathroom clock – one with a fake tick-tock.
Back to last January. Do you make resolutions, choose a word for the year, or just wait and see? I chose a word – or it chose me. I set up a notebook, wrote out my plans, started to make something of it. Then a strange bit of old conversation pressed into my consciousness – and I listened to it. So began the strange unfolding of my word.
I started with plans and purpose and the first project led to a serious clean out of my needle crafting supplies and that led to being able to sow them into the lives of young women with teachers wise to help them explore art and craft in many forms.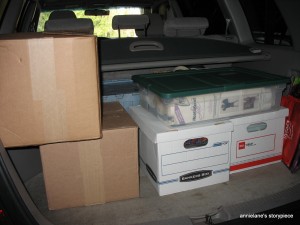 Father time had gotten involved with the bittersweet realization that years of life are limited but creative ideas are not. Expecting to be energized, I found myself exhausted, slowed to a crawl even. Where was the energy that was supposed to come with 'de-cluttering'?
In August, I needed something from the cellar. Easily distracted, I faced into the storage boxes of journals and notebooks. Looking between the covers made me ponder the fact that some words bind us to the past in unhealthy ways.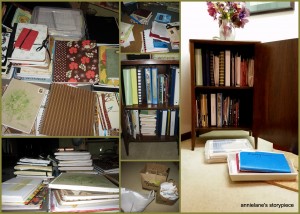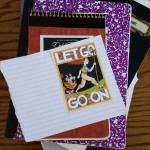 Determined to forget those things which need to be forgotten in the grace of God, I glanced through them, saved some treasures and recycled 15 years of time, releasing and simplifying spaces of the past.  The process went on as I looked into the guest room which from the doorway looked quite tidy… Opening the closet reminded me to photography and scrapbooking projects unfinished…
That word for the year – well, well-being. This cleaning of the attic and basement of my soul has happened as the fabric and books and paper have been cleared away. While the work has been emotionally exhausting and wearing on the body as well, it is creating well-being in my soul. The stack of empty storage boxes, the deliveries, recycling, gifting, are all evidence of the work out, long needed for my health.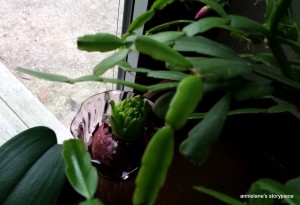 All along, of course, life goes on with sunrises, sunsets and quiet, wonderful things, nurturing me. Like this hyacinth bulb, the first I've grown in the house. Wonderful, quiet growth unfolding.
Farewell, 2015!
I pray for all a wondrous, joyful New Year, 2016.