For me, one of the wonderful things about this time of internet communication is meeting people around the world. I want to mention two lovely Australian ladies whose blogs share creativity and kindness so generously.
Kerryanne English blogs at Shabby Art Boutique. This month she has started her 6th year of Simply Christmas entries. In the first post she introduced her beautiful 2015 Christmas Planner – free to download, which I was happy to do. In the next post, she wrote her thoughts on planning.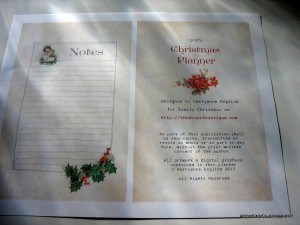 I've been a planner, but somehow in the last couple of years, I forgot how essential this ingredient is for relaxed celebration. I find that planning – anticipating – can really add so much joy.
I used to keep wonderful records of menus and cookie baking marathons and gifting. I'm starting again to keep this record of joy sharing. Kerryanne is posting ideas for gifts and décor as well as continuing her Friday link-up parties full of inspiration.
Then, I would like to introduce Jennifer Reynolds – Jenny of ELEFANTZ. Jenny is always so generous in sharing her lovely talent in stitchery. She has also been gathering creative ideas for gift giving from other bloggers and kindly sharing the links.
While embroidery is an old and mostly abandoned interest of mine, I was inspired by her holiday table runner last year to create one of my own with fabrics available here.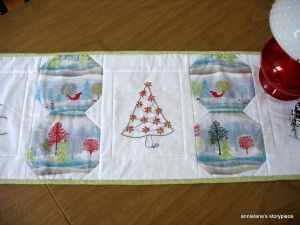 And, I almost forgot – food – you will find tempting recipes at both sites! Have a look?