Our bluebird friends are visiting their old nest box again. Other birds are invisible to me as they chatter and investigate trees for holes and shrubs for cozy places for winter nights.
The squirrels are frantic, running here and there with acorns and black walnuts from across the street, burying them, then futilely patting leaves on top.
The deer are dressed for hunting season in deep, drab coats. They wander the yard aimlessly having eaten all the apples and pears they could reach or their squirrel friends tossed down to them.
Overhead the geese fly and chat about moving south or staying in place.
I imagine that you, dear reader, are adding cozy touches to your home and securing it against the winter to come. I've dressed the beds in layers of blankets and comforters, added afghans and quilts and pillows to couches and chairs and made a number of batches of applesauce – my wintry comfort food! This week I also pulled out my old potpourri crock pot to warm up the house with cozy scent.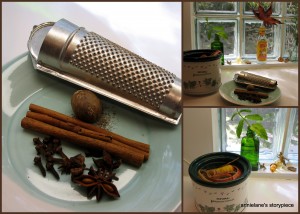 Spices, apple peels and core, water and time = delicious scent.
A scent I didn't know I missed came to me the other evening as I opened the door – wood smoke. Someone had a fire going in their home. Now I miss the scent of burning leaves and wood from old fashioned barrels and pits and stoves as I venture out in the cool of the day. Our long ago neighbor cooked and heated her home with wood.  I remember there was always a curl of smoke from the chimney and the scent of hearth on the air.
One of my long term projects is finally finished and adding a cozy touch in the guest room and a smile to my face whenever I look in.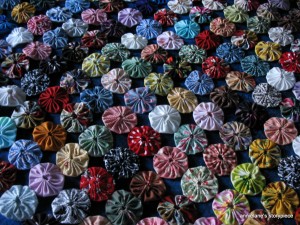 My years long project of scrappy yo-yos is finally sewn together! It was my birthday gift to myself to complete it. I remember when I was very young that we had a yo-yo coverlet.  The fun of it and the weaving in and out of little fingers stayed hidden in memory until I saw this style had a revival of sorts. Mine is only bed warmer or foot cozy size although my sister pointed out that I can always add to it!  560 little circles gathered and stitched together.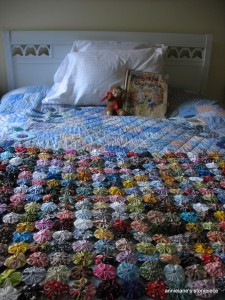 I rather enjoy the repetitive hand sewing as a winter activity. The nostalgia of it drew me to the book shelf and my favorite childhood story book.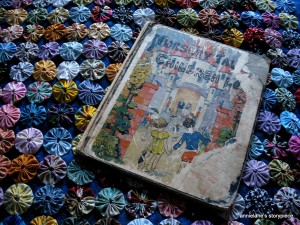 It is certainly the worse for wear having entertained quite a few children since I received it as a gift and lived for a while in a dark attic before coming back to me. I don't have many things from my childhood so I am delighted to have this book. The illustrations are wonderful.
Take a peek.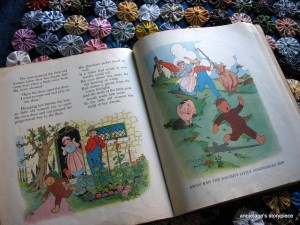 Yes, the naughty Gingerbread Boy. There are many classic stories in it but my all time favorite is a mysterious, creative and delicious adventure which is probably totally responsible for my need to always have butter on my pancakes. I loved this little family!