A quiet day, much of it spent almost nose to the ground picking up wood shaken from the trees in wind and rain. I'm mindful that this is minor damage and very grateful that our saturated ground was spared the hurricane hit. But it is a tiring chore.
So I'm sharing a brief September trip to Ithaca, home of a dear family member. As I have noted a number of times, I'm smitten with the bird cams sponsored by the Cornell Lab of Ornithology located on the campus of Cornell University in Ithaca, NY.
During a leisurely breakfast, we watched the live-streaming of the historic inauguration of Cornell's new President, Elizabeth Garrett, the prelude to Homecoming Weekend. Although there were many events planned on campus, we managed to evade them all and see the things really important to Elaine

The field light post where the hawklets were born and fledged was the first stop…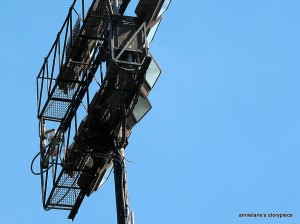 It was lovely to stand and look around at the sights we watch on the bird cam. Then it was off to Sapsucker Woods to see the cams at the feeders and on the pond.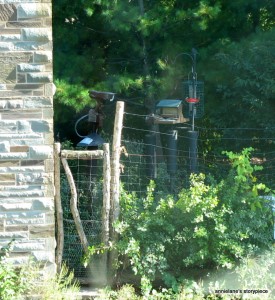 It was a brilliant late afternoon and a luxury to sit on the well placed bench with family and enjoy this peaceful place.  Later we were off to the fabulous Zaza's to celebrate my upcoming birthday. There, after a wonderful meal,  I met my new dessert love – Affogato al Caffè – "Freshly brewed espresso poured over creamy vanilla gelato", and, available as de-caf! Such a satisfying day!