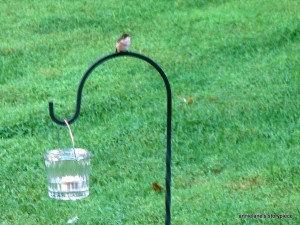 The 13th of September, we noticed something a bit odd, a female hummingbird perched on a chair outside the kitchen door and later I saw this one. It was if she was saying farewell, rather than just waiting to have a drink. Mystery. How do they know how long to stay? Where will this bird go?
It is always a bit sad when they leave. So tiny to leave such large emptiness behind.
And then… the notice came… Cornell's Lab of Ornithology has a new bird cam on-line…  migrating hummingbirds!
Here in the East, we have only the Ruby-throated Hummingbirds. This cam is located in a remote research site along the known hummingbird migration path and a dozen species can be seen at the feeders!
If these magnificent small wonders interest you, have a look.