Heavy weighted fog pressed down, but along the roads and parking lots, there were golden bells proclaiming spring! I captured these if full ring outside the library.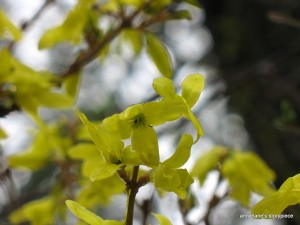 Inside, I captured Melissa Michael's new book and Karen Kingsbury's too. At home Jeff Goins new book had arrived!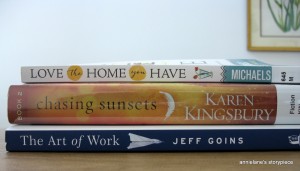 A bounty of riches waits on my table, urging me on through my work sessions, teasing me with promise of inspiration, fresh insights and ponderings.
I have followed Melissa and Jeff on their blogs for a number of years. And while I don't read much fiction, I do enjoy Karen Kingsbury. Her new series, Angels Walking, is compelling. This is book two. Now for some long quiet evenings!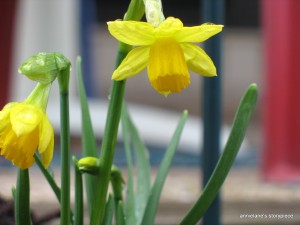 During the longest, coldest winter, I sorted through my sewing and crafting things like a squirrel in semi-hibernation turning over her cache of nuts and acorns looking for choice specimens to savor.  While at first it was almost a sad endeavor, I now feel the freshness in it. Encouraged by the writing of Bonnie Grey, Cheri Gregory and Kathy Lipp, I came to see that my stash had actually become a hindrance to creativity and productivity.
Cheri had a great post that helped me. Projects get interrupted in my life and when I go back to them, sometimes I couldn't figure out where I has stopped and what I should do next. My notes, if any, where like a code I couldn't crack. And so I would set them aside, again. Procrastination. Frustration.
After reading her post, I went through my supplies and created a small collection of future projects and wrote out my plan for each in as much detail as I could. If I didn't have a plan, I chose not to keep it. I freed myself of leftovers from past quilting projects and other crafts this way too. And the good news? I have actually been sewing again! I'm finishing things, and fluffing the guest room. Projects seem fresh and exciting. And more good news – I've found a place to gift the overflow, investing in the creative lives of young women. This makes me smile, big!
The plans?  Itemized and amplified to included any other needed items; typed, saved, printed! No little scraps of paper written in mysterious code!