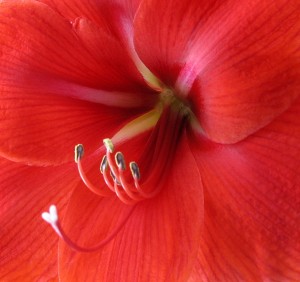 I drink in the beauty long delayed and so welcomed. No matter the time of day, these lily-like flowers enchant. Life locked in bulbs with a mysterious time clock – leaf, bloom, rest – go round the seasons.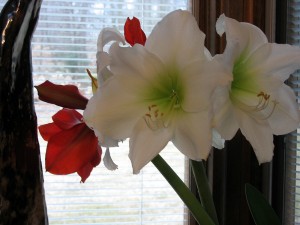 I'm honored that my minor contributions to their wellbeing allow the cycle to continue and they flourish. The name Amaryllis means "to sparkle".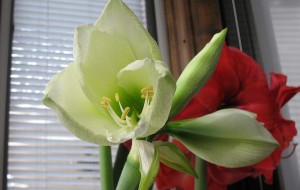 Outside, the same clock of life ticks. Green leaves push hard through frozen ground, leaf litter, snow and ice.
And morning surprises with snowdrops seeded into lawn and weed patch – nature's seed time and harvest continues.  In the gentle rhythm of seasons, the light of life can shine deeply into dark and hidden places. In prepared soil or hostile environment, in tender care or neglect, snowdrops grow and bloom.
I'm observing lessons of both hope and warning to consider what is growing in the soil of my life and heart. Today, I choose hope for myself – to see in these blooms a willingness to embrace life, the new thing springing forth even in what seems to be wilderness. Choosing life, growing in obedience to Creator God, persevering as from a seed growing through harshness of soil, sometimes bitter cold, flood or drought and even life's mowing seasons and on to maturity, bringing forth beauty to delight the soul of another whether or not they understand my name or words or calling. Perhaps then I would sparkle too.