Christmas Eve busy winding along to Christmas day but I haven't forgotten waking early thinking of trees. I wondered why and listened hard but found them still and silent in the dark outside my window. Not satisfied, I wrapped in flannel and opened the door. Trees patiently, quietly standing washed in rain.
I don't see them, but I hear the early call of a few birds at their prayers – loud praises. No doubt most are huddled in evergreen and bush and brush from the steady rain, whispering bird praises.
I think it a companionable gathering – birds and trees. Storms and disease take their toll, but in life and death, trees live to serve and shelter them.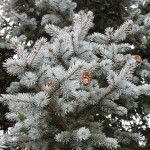 This Christmas eve, I'm not really listening for bird call but I strain to catch other voices, to hear the trees whispering. I am sure they were calling me from sleep. But I hear nothing. Maybe it's just the breath of fresh greenery in the house. I've shared my early memory of trees before and I wonder if my small self heard their voices then.
Trees are like a wondrous, rich inheritance, but one taken for granted, I'm afraid. From Genesis to Revelation, trees are pictured, connecting to us in parable. They are portrayed with their own rich life, lively and nurturing and protecting. In parable, I too can have a rich tree-like life – thriving and strong, serving and sheltering.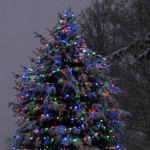 I'm so glad we celebrate Christmas with trees; they teach me to rejoice too! Listen, you might hear them clap their hands! Now on this silent night, I listen for the rustle of their praise and add my own to the chorus.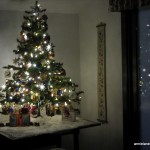 Merry Christmas to all!