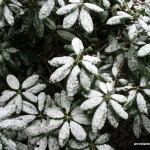 The words of the old Shaker song go round in my head. Finding myself in "the place just right" seems hard some days – like the other day when I realized that the inkjet cartridge had leaked black all over lovely wood and then I picked up the wrong can of paint and though I thought it looked a bit dark – it was wet… I went on painting. And then I had to paint again. <sigh> I know, in the grand scheme of life, not so big a deal but it is the little things some days that seem to overflow the cup. What do you do with those days? When the wind blows hard and there are even waves in the birdbath.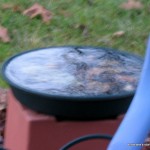 In 1985, it was really big deal to have our beloved Nana diagnosed with dementia. We tried keeping her at home with helpers, but the disease took her away in giant steps. Too soon, for her safety and well being, it became a necessity to place her in a care facility. It was a time of busy grief.
Christmas was coming. I had so much on my mind that day I drove the beltway – from where and to where – I no longer remember. But on that drive, the thought came to me that we could give her an album quilt for Christmas. Only one problem. I had no idea what an album quilt really was but I thought of blocks, large ones, that would tell a story, the story of her life.
I went to a small quilt shop with my idea and the staff was so helpful with the project from beginning to end; even supplying fabric from personal stashes when I cut the border fabric wrong and there was not enough to finish.
I sent fabric and the plan out to family and everyone worked on squares that said something about her life. Everyone worked quickly, taking comfort in being able to do something, anything, to bring some comfort to her, and ourselves. Soon, all the blocks were back and it was time to make the quilt.
I had never made a quilt before…
Sewing the blocks and borders together was the easy part. Then came backing and batting and I recall taping it to my kitchen floor as the only place to stretch it out and layer it. Finally it was pined together and ready to quilt.
I had never made a quilt before…
I called my friend Lucy. She was a Southern girl with a country background. Did she know how to quilt? "Quilting should enhance your design, don't do too much." What did that mean?! I stitched some, and then some more. Then came the binding – and somehow – it was done – by Christmas.
The quilt became a great gift to us as we felt we could wrap her in our love. Nana used the quilt for 4 1/2 years. At first the staff thought it a nuisance, then it changed their view of this wonderful woman. It gave her an identity, a life; it became a conversation point. It reminded them that she was loved and cared about.
There is nothing fancy about the quilt but it is now a family treasure, faded, worn and soft.
And today? That gift to Nana, opened a space for me. For when the wind blows hard, the ink spills, the paint goes on wrong… there is a calm that comes with fingering fabrics, hearing the whirl of the machine.
We woke to snow today, rather like a celebration to remember Nana on her birthday, with love.
Loretta    1906 – 1990