Too windy for reflections this beautiful day, but as I turned away from the water view, a glimpse of color near my feet sent me off on a hunt for tiny treasures.
"Autumn, the year's last, loveliest smile."               William Cullen Bryant
Several autumns we drove from Elmira to Ithaca, both towns in New York. Near the end of this route we would come round a bend and the hillside would be swathed with purple. I always wondered what trees turned purple, but this year we have purple trees in our neighborhood! They are a bit difficult to photograph, there are not many places to stop on winding country roads but I captured this one on the drive home.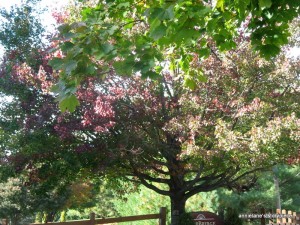 From Seeing Trees, I am learning about anthocyanin, a blue, violet or red pigment found in the leaves of some trees. It's activity is  dependent on sunlight, rainfall and weather. Our long cool and sunny days are producing interesting variations in the leaf color of maple trees this year. I'm learning to pay attention to these wonderful details.