Background sounds change through the day. Cicadas of kinds must dwell in the woodlands around us. I understand that the night chorus belongs to the katydids and crickets. Creating a kind of white noise, they fill the hours with sound.
The other day, in the perpetual yard tidy, I glanced at the ground by a maple tree and bright green attracted my attention. Without thinking, I picked up this creature partly freed from its shell. When I felt the pulse of energy, I ran for the porch calling for my camera assistant.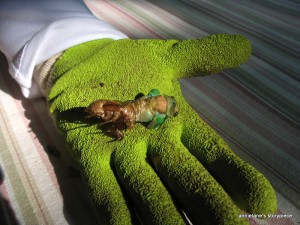 He snapped away and I sat amazed, feeling the pulses of energy as it continued to push itself free.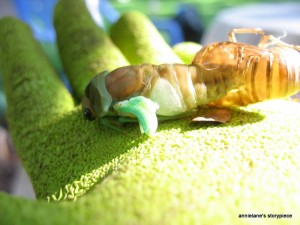 It had a strange fishlike appearance and as the final pushes were coming, I placed it back at the base of a maple tree. Out, it began to crawl away from its former skin.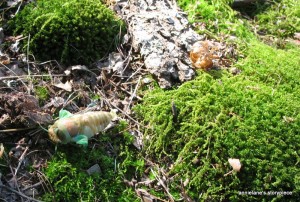 After our quick supper, we returned to find the beautiful wings had unfolded and the new cicada was making its way up the trunk. We were thrilled to have this amazing experience!