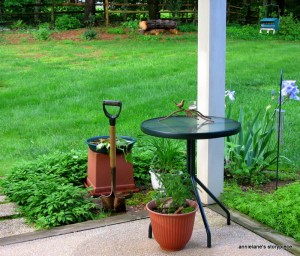 He left his shovel. There is a great deal of work to be done before the rain comes again. Many inches of rain have followed the snow and lush growth overwhelms some spaces while seeds are still packaged. And, there are rabbits. Very large rabbits.
Rabbits have been rare visitors to the hilltop. For years we only saw them down near the driveway. And I envisioned them living in the bank of the hill under tree roots. I believed Beatrix Potter.
Actually, I believed Mr & Mrs Fox had everything under control and were serving rabbit pie to their young. I think they must have moved since I now watch the bold, joyous antics of celebration as rabbits roam the garden area taking bites here and there.
On the last sunny note – gold in the garden –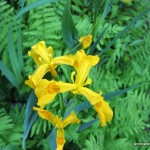 While the rains came, I decided to purge my cookbook and recipe collection. It went badly. There were piles everywhere and I thought I might just put everything back, but that never seems to work either.
So, procrastination led me to play on-line where beautiful inspiration draws me to Botanic Blue. Oh my, Judith wrote on Organizing Keepsakes in Baskets and my problem was solved – for today.
Ta-Da! Now they are all in a basket with a vintage hand towel, recipe cards, a pen and a notebook! The book sale items have moved to their box, the counter is clean, and I am smiling!  I love creative solutions! Even temporary ones.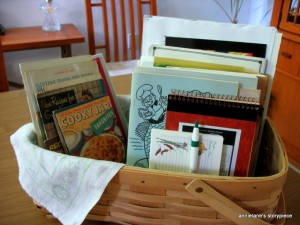 But, those shelves are still full! How did that happen?