Ada came again after I heard that Clark wasn't at all well. She wanted to tell me what I didn't want to hear, she would get to meet him soon. And so she did. So again, I'm telling myself a story, if you'd like to listen in… Ada is speaking.
  Clark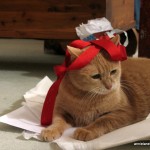 Hi Mom. I know you, crying your eyes out, but blow your noes nose, dry your eyes and try to listen up. I want to let you in on what's happening here, there has been so much kittie chatting! I'm sure I'm going to like Clark. he seems like such a cozy, gentle friend.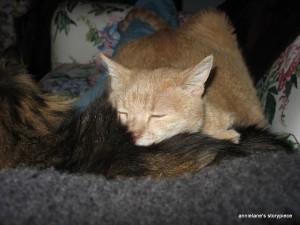 Sasha wanted to meet Clark, she thought it would be best. I think The Best Cat Ever just wants to be in charge here. ha-ha! She really hasn't been here very long so we all just love on her. What stories she has had to tell! Well, you might imagine, we are ready for an update on Our Girl!
Here they come now…go on Maggie, don't be shy, your brother Clark is here now! Max – just chill – no herding Clark just yet! Isn't it great, Merlin, to see all your housemates together again? Oh, yes, I forgot about Phoenix for the moment (although how could I?) Yes, yes, you remember I told you about meeting him at Mom's house. I'm sure I will recognize him… Hello, Coal! Strawberry! Haven't seen you in some time, welcome!
Now, we'll all be in a down/stay/tuck in paws until Sasha finishes introductions; I'll wait till last.
Hello, Clark! So glad to meet you! I know we are going to be best friends! You just wait and see! What's that Sasha? He's bringing news, well of course he is! Mabel? You left Our Girl in Mabel's paws? Well now, that is excellent news! How delightful that there is a new pet in the house. Long-hair, you say? Wonderful! Not that you short-hairs are not attractive, no, no,  not at all! But we long-haired girls and guys do have our good points. (You may not know that Ada was a bit vain about her wonderfully curly topknot and tail.) I'm distracted – what's that? What's that! A ring! Bling! (Ada is jumping and twirling) How exciting! I'm so fond of a little bling for a girl!
Ok, sorry Clark, I'll settle down. We want to hear everything, almost 14 years with Our Girl – remarkable from what I've heard about your eating habits…plastic bags, blankets, sheets, my, my…
But we want to know more about the ring. Sasha told us about "him"; plays the guitar, let her nap in its case, let you stick yourself to his leg…
Her happy voice fades from me and the curtain slides back into place on the peaceable kingdom.