A tale told by tree light and candle glow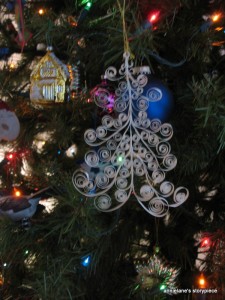 Somewhere I came across the thought that life is a play and we come onto the stage not knowing what has gone before or who the other players are and we are left to improvise our way into the story. It does seem like that, doesn't it?
Recently I began reading Becoming Myself. Stasi Eldredge writes, "As a woman, your mother is your most potent role model. How she felt, what she thought, and what she believed had a direct effect on you… including… how happy [you] can be…"
I've written before that Christmas in our house was full of happy – gifts, family, food, Mama baking, cleaning, shopping, card writing, decorating… all these wonderful things I learned. But there was also Mama crying which left me full of sad and empty too. And I learned Christmas came with tear stains. It was many years before I heard a little part of her story and gained understanding which did clear some of the mist of Christmas Past that swirled around the holiday, but I had long since learned tears and sadness. My emotions at Christmas became a hazard to me; carols and songs carried the threat of sobs hidden among the lyrics like sad, malevolent goblins just waiting to overwhelm me. Knowledge and prayer brought a slow healing from those learned emotions.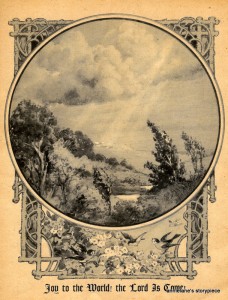 A few days before Christmas I was busy baking cookies and Bing Crosby crooned "I'll be home for Christmas" into my kitchen space. Like many other families, we have a number in ours who come for Christmas to this place of their birth, 'only in their dreams'. And I thought of them as I slipped the pan into the oven. Then, as I waited on the oven timer, I was transported back into a dream I had a while ago.
Sometimes my dreams seem like full-length movies. There is no time or space in the world of dream and this one was beyond place as well as I dreamed of William. William, whose absence became presence in my life every Christmas season. William, an older brother who became known to me only in this dream I share now.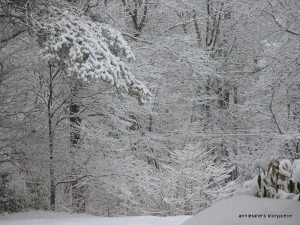 Frail and weary, William was carried by his dear friend and comrade from the battles. William felt heart-sick, having failed to overcome in the war. His friend comforted him, offering love and strength but he could hardly receive. His friend had some understanding; he had carried battle worn small ones home before, home to the loving embrace of their Father. Each tiny spirit reacted differently to the journey and he was concerned for William, so small and listless. He pressed the tiny one closer as the journey ended and carried him into the Glory.
William felt the change but could not seem to turn to its embrace. And then he heard, "William, dear son, welcome home! I am so proud of you. Well done!" William blinked and looked timidly into Eternal Love. "But, I failed to be born. I failed my mission to live earth life. I failed… "
"Dear William, you did not fail Me. You were brave and fought valiantly in your battles. You lived nine months in your mother's womb. She and your earth father and your brother and sister loved you as they could and you will never be forgotten. My dear little child… ", welcomed Eternal Love. And William smiled into the radiance of his heavenly Father. He snuggled, resting in Love, growing stronger; aware of Father giving instructions to his comrade. His dear angel friend gathered William into his arms and bore him off to the chambers prepared for him where he would grow.
William came from the Glory and returned there December 23, 1942
As the dream memory passed, I thought, Oh! "I'll be Home for Christmas" is actually my song and William waits for me to come home for Christmas! And in that moment, my simple kitchen became a 'thin place' and it was as if I could see through the veil and a robust and glowing man leaned through the portal, grinning – "You've got it, Sis! There's no place like HOME for Christmas!"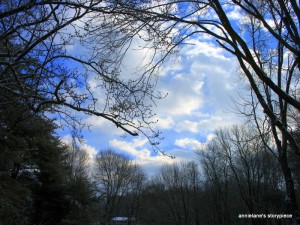 And the timer sounded and the ordinary was all around and I felt my smile and a few gentle tears too as I blew a kiss. I'll be home for Christmas one day, William, and I know it will be far better than snow and mistletoe and holly!
This piece may not fit your theology or thoughts on dreams and visions and that's ok. Even if it was only imagination, I believe the Lord Jesus has continued the healing process in my soul through it all and I am grateful.
The Lord used Pastor Jack Hayford's I'll Hold You in Heaven – Healing and Hope for the Parent Who has Lost a Child through Miscarriage, Stillbirth, Abortion or Early Infant Death to do just that for my Mom. I offer this as a resource which could be a blessing to others like her who carry this pain of a lost child.
From Psalm 139 RSV – For it was you who formed my inward parts; you knit me together in my mother's womb.(vs 13) Your eyes beheld my unformed substance, in your book were written all the days that were formed for me, when none of them as yet existed. (vs16)