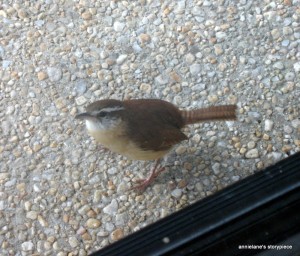 A sweet new visitor for us. This Carolina Wren is very quick and this is my first photo capture. Leaves continue to fall and blow about and this energetic little bird barely stops for a photo op as he races around turning them in search of a juicy bug. The other day, he plucked a stink bug from the door. I don't know if he ate it, but I do hope he has an appetite for them!
I've mentioned it before – this is such a great site – Cornell Lab of Ornithology Click and you can hear the song of this wren which is what draws me to the window! These little guys are loud and distinctive from the House Wrens that nest here in summer.
I haven't put out a suet feeder in a while because the squirrels and crows are adept at stealing them. Today, I'm plotting where to put one to entice this visitor to stay a while.
Do you have a favorite bird in your neighborhood? Do you feed birds over winter?