On the grounds of a busy medical center near Baltimore, I have found a hidden garden. Grown from a ravine between garage and offices and crossed with walkways, it draws me anytime I go on campus. On a clear September day, I took the time to linger in this oasis and enjoy the waterfall and pond.
I felt the tension float away as I listened to the water talking to the rocks it passed.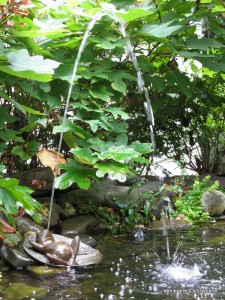 This frog fellow was my only companion, relaxing forever on his lily pad with his carefree attitude that seemed to speak to me that day as the water flowed through him to splash and aerate the water for the vermillion fish.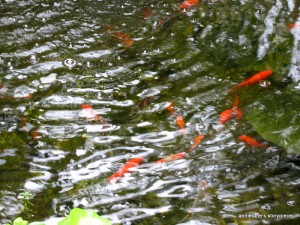 Wouldn't it be grand to stretch and face the sun, totally at peace, while accomplishing the work of nurturing others. Thinking about this, I rose and then noticed this small, living frog who I could imagine was also intent on the sculpture. (look closely to the left, near the fallen leaf)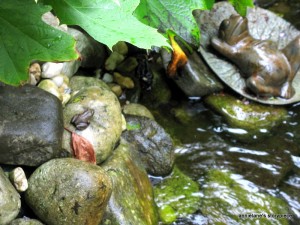 Now relaxed and smiling, I left him to his musing.