A number of years ago we had my Mom's old home movies transferred to discs. When we went to pick up these time capsules revealed, they played party after party! The tech commented, "You sure had a lot of cake!" And we did! Every birthday was a celebration and cake was required. And candles. And ice cream. And off-key singing with gusto! Mom never forgot or was too busy to celebrate the ones she loved.
This morning I baked cake, an everyday sort of cake but one I remember best and bake often, Mom's Cinnamon Coffee Cake and we remember –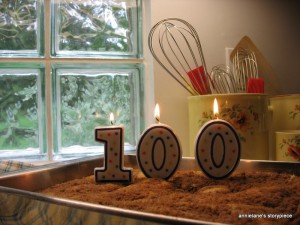 And I write and call and encourage everyone to have a treat today, a splendid, memorial treat and celebrate.  Happy Birthday, Mom! We remember you and all the good times!