Summer holidays always take me back to the river shore places… sisters and brother and cousins, aunts, uncles and grandparents…fishing, crabbing, floating, sunbathing, picnics, grilling, ice cream treats… Today I thought I would share some photos from the past before mine, in the good old summertime!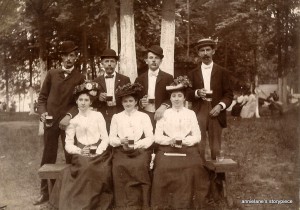 Getting out into the countryside…I can see the water in the background…well dressed for the day's outing! And yes, those do look like mugs of beer!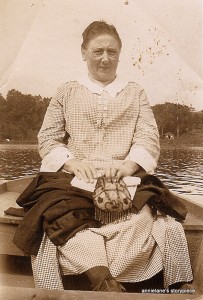 I love this photo of Great Aunt Annie. I never knew her but everyone spoke so highly of her kindly disposition, I'm sure I would have liked her very much. I particularly enjoy this photo of her in a row boat, so erect and holding her beaded handbag!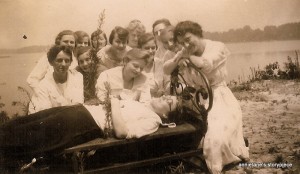 Dramatic entertainment circa 1919 – the Ladies Bowling Club Outing.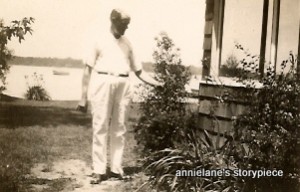 One of my grandfathers had a shore place on the Bird River. Nothing fancy…two bedrooms, living room, outhouse and a separate summer kitchen. Need water? There was a pump. Who needed anything more? Friends and family filled the place every weekend.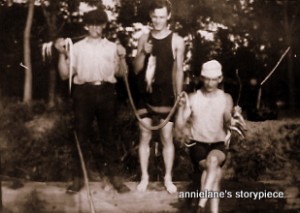 Another favorite of mine – my dad on the left in the only beach attire I remember – fully dressed, including shoes! Going fishing, crabbing? We would push the rowboat up to the pier and he would step down into it and off we would go. Never mind my sister and I had bare feet while he dropped the crabs into the boat bottom. They would scurry into the corners or under the seats while we sat cross legged fearing for our toes!
Watermelon! Cantaloupe! Cherries! Peaches! Plums! Blueberries! Blackberries!
All in the good old summertime! Enjoy your summertime!