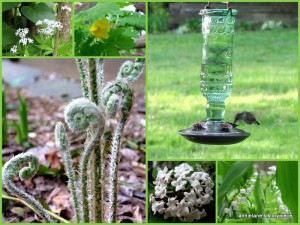 "Every spring is the only spring, a perpetual astonishment" Ellis Peters
I quite agree, every spring is so amazing! The sweet woodruff loves it here, matting itself around and through so many plants. Giving us delicate white bloom in May and a carpet of green until frost.
Fiddleheads are intriguing ans so visible on these large ferns. They grow under the Fragrant Viburnum carlesii.  White Flower Farm says, "This is one of the most gloriously fragrant shrubs known to man. The dense flower heads, which measure up to 3in across, produce white flowers from blush pink buds, and the perfume, which is a sweet, rich, spicy vanilla, carries a considerable distance across a lawn or garden."   And this is so true! I like to stand near and try to drink in the fragrance of it. All too soon the bloom is gone. But then it is time to search the shady nooks for sweet Lily of the Valley.  Little clusters in a tiny bottle on the kitchen table bring such joy.
The sweet yellow bloom is trollius or globeflower which seems to love a shady area along our fence.
This was a very cool spring for us; I thought I would never put away my heavy fleece! I think it delayed the arrival of our hummers. Last year the territorial war seemed a bit vicious so I found another of these bottle feeders in an attempt to have everyone be nice. The newest one has the most interest right now but I would like to dine among the iris myself! It will be interesting to see if the popularity of the feeder changes as the Iris wane and the daylilies bloom out around our porch area. Not a traditional porch but with our swing, small table and chairs outside our kitchen door, It serves us well as one. We enjoy many pleasant hours there.